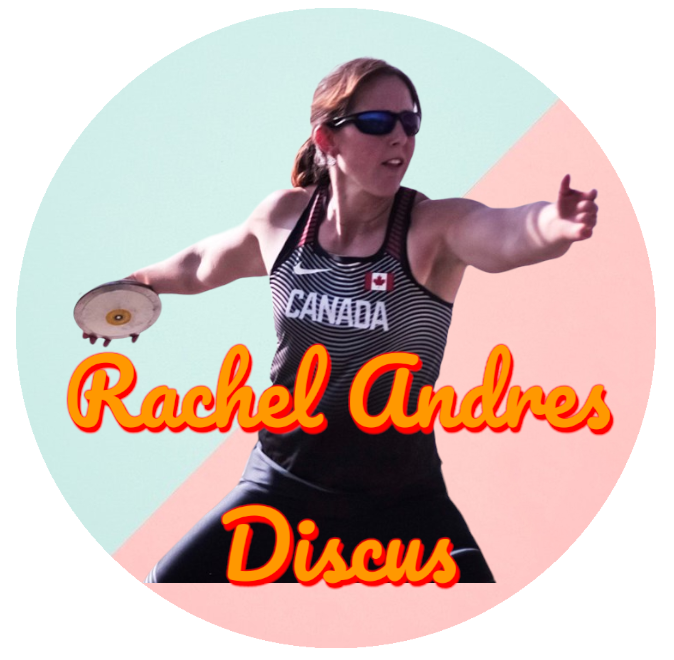 Are you ready to elevate your throwing game to new heights? Invictus Sports is thrilled to introduce Rachel Andres, a powerhouse in the world of track and field throws, who is now available to provide expert feedback on the Invictus platform. With a remarkable athletic journey and a passion for coaching, Rachel is set to guide athletes to success in hammer, shot put, and javelin.
From USA to Canada: A Journey of Excellence
Originally hailing from the USA, Rachel Andres embarked on her track and field journey in 1998 and hasn't looked back since. Her dedication to the sport led her to become a dual-threat athlete, competing in multiple throwing events, including discus, shot put, javelin, hammer, and weight.
During her college years, Rachel achieved the prestigious status of 2x All-American and secured numerous conference titles, showcasing her prowess in the throwing arena. Her incredible versatility as an all-event thrower set her apart from the competition.
Olympic Trials and Hall of Fame Induction
Rachel's journey took a momentous turn when she competed in the USA Olympic Trials in 2012, representing the pinnacle of American track and field. Following this remarkable achievement, Rachel and her husband immigrated to Canada in 2012.
In 2016, Rachel's outstanding contributions to track and field were honored with her induction into the Athletics Hall of Fame at Oral Roberts University (ORU). This recognition stands as a testament to her exceptional career and dedication to the sport.
A Force to be Reckoned with in Canada
Since becoming a Canadian citizen in 2018, Rachel has consistently ranked among the top three at the Canadian Championships, even achieving a remarkable 2nd place just eight weeks after giving birth to her second child in 2022. Her commitment to excellence and her resilience in the face of challenges exemplify her unwavering passion for throws.
Rachel proudly holds the Alberta Provincial Record in the discus throw and continues to break this record year after year, demonstrating her ongoing excellence in the field.
A Coaching Journey Rooted in Passion
Rachel's coaching journey began in high school in 2004 and continued throughout her college years. In 2010, she took over coaching the throwing athletes at ORU, including walk-ons, and played a pivotal role in their development.
Upon her arrival in Canada, Rachel's coaching career continued to flourish. She dedicated herself to coaching the throwers at Olds High School, where her expertise led to numerous Provincial records and the emergence of Provincial and National contenders. Many of her athletes have earned scholarships and competed at universities in both the US and Canada.
From 2017 to 2020, Rachel coached and competed for the Airdrie Aces, further establishing her reputation as a top throws coach. In 2021, she continued her coaching journey with CALTAF, where she is making an indelible impact.
Performance Coach Extraordinaire
Rachel's commitment to coaching is unwavering, and she recently acquired her Performance Coach certification. She continues to expand her coaching knowledge with the goal of achieving High Performance certification. Rachel specializes in coaching high-performance throwers and nurturing budding elite athletes into high-performance contenders. Her true passion lies in passing on her love for throwing to anyone eager to learn.
Join Rachel Andres on the Invictus platform and experience the transformative power of her coaching expertise. Whether you're a seasoned thrower or just starting your journey, Rachel is here to guide you towards success in the world of throws.
Invictus Sports - Your Partner in Athletic Excellence.